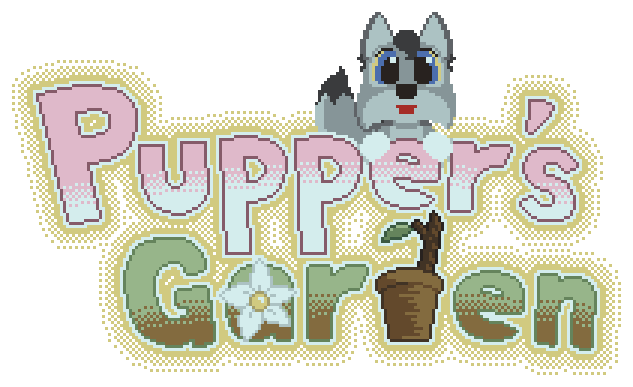 Pupper's Garden
A downloadable pupventure for Windows
Pupper's Garden is a little game about a little pupper with puppersized dreams. Spending her days watching through the window as people dig holes in their gardens and hide things within, only for happy little greens to soon spout in their place, until one day she decides that she wants to have fun outside too and with the help of a moo, make a garden of her own. ♥
About the Game
This is a game that I made mainly for myself, to fulfill a niche that I missed from my own childhood, but as I worked on it I started to figure that maybe it may be able to bring smiles to others too. I never intended this to be a binge game, but rather one you pick up, play for a little bit and then set aside for later. A game of positivity, playfulness and discovery, that doesn't punish or scold you, nor try to push you to maximise some arbitrary number. Very simply I wanted to make a game that was just plain - nice - and I hope that I've achieved that.
On the surface it is a simple game, but there's hidden things and complexity to find, which I'm hoping will bring just that bit more spark into playing it. I won't give away all the secrets here, though I will say that it does obey the universal rule of video games, that "if there is a pupper in the game...".
You will help pupper tend her garden and grow herself tasty treats and pretty friends. Some will grow and then go, others will stay and bring their boon more than once, though be careful as once they have been picked that first time, interacting again while not fully grown will remove them to make space for other friends. Make sure to manage your box as there's only limited space, new seeds magically appearing therein each morning or when you harvest something... that is if there is space of course.
Word of advice though, this is not a game for the instant gratification lover or the point - or achievement chaser. This game is just simply - nice.
Control
I sought to make a control scheme which remained very simplistic, thus there is very few keys to worry about and everything you do is done via these.

Arrow Keys: Move / Menu navigation
Space: Interact / Select
Escape: Back / Quit
+/- : Adjust music volume, use CTRL to finetune
Music is adjusted by 5% at a time unless CTRL is held, in which case it's only adjusted by 1% instead.
If you seek to adjust the game volume as a whole, please use the system audio sliders instead.
Special Thanks
Special thanks goes to Maxine Red, both for her help with opinions and testing, as well as for the background music and fanfare jingles which she created.
Also thanks to my patreons for their support and encouragement. ♥
Atillite
Maxine Red
RandomHato
Lady Random
Ava
Purchase
In order to download this pupventure you must purchase it at or above the minimum price of $3 USD. You will get access to the following files: